The Wool Wall is an artwork of public commission that we owe to the artist Jean-Louis Coursaget. Expressly designed for the UFR LLSH, it has been installed in the hall of the building since 1987. The artwork consists of three colored sections (two horizontal and one vertical), designed to be directly integrated into the architecture and to take advantage of the luminosity of the hall thanks to the imposing picture windows. The total surface of the artwork is 58 m².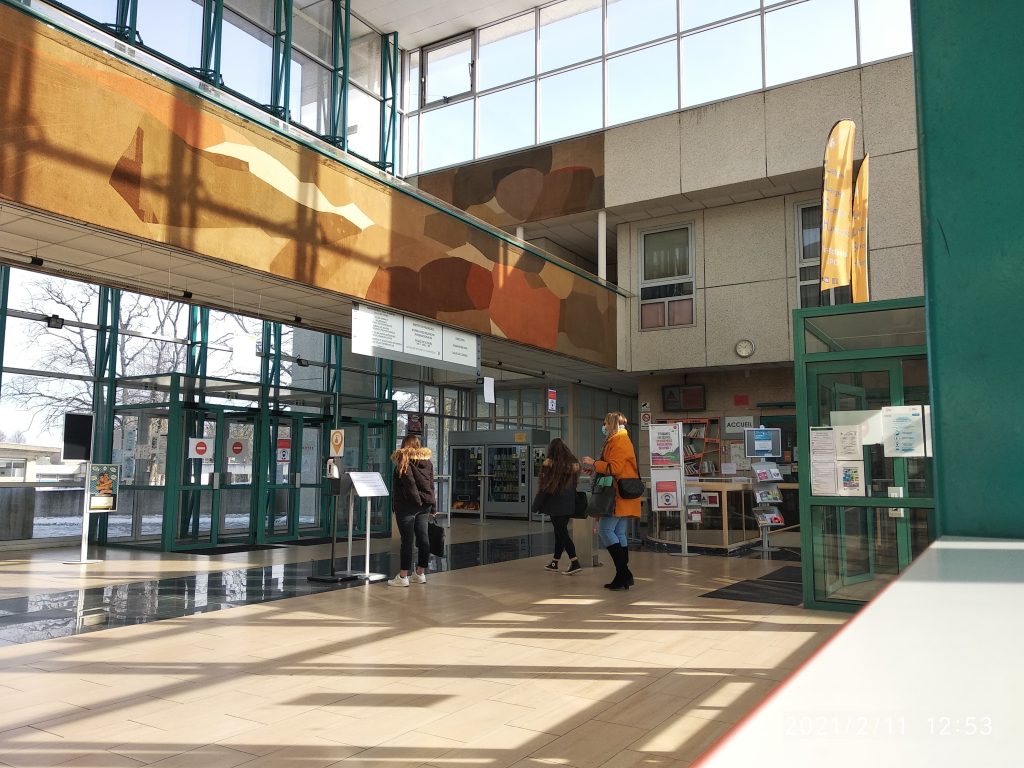 The Artist
The colors (we will come back to this element which requires clarification) and the simultaneously geometric and soft shapes of the work are quite characteristic of the work of Jean-Louis Coursaget, as evidenced by the images below. Born on the 09th of October 1948 in Moulins, he has devoted himself to his artistic career since 1972, after five years of studies at the National School of Fine Arts in Paris. He distinguished himself greatly through public commissions : in the Centre-Val de Loire Region alone, we can cite (not exhaustively) his tapestry for the Town Hall of Chartres (1985), the stained glass windows of the college of Louillard in Eure-et-Loir (1989), or the frescoes in the Hall of the Town Hall of Villebarou in Loir-et-Cher (2000).
Preservation
As the photo opposite shows, the original colors were very vivid. Thirty years later, the artwork has evolved : colors have faded, the material has considerably yellowed. Here resides the regrettable paradox of the woolen wall: a work conceived for the building which shelters it but whose design and conservation did not take into account that the light, the passage and the pollution that it generates would alter it to such a great extent. This is an opportunity to recall one of the crucial issues of the typically French obligation of the "1% artistic" for the construction of public buildings : the sum allocated to the work must be able to allow its conservation and maintenance over the long term. As a reminder, the amount of the order was 262,090 F, that is to say around 68,000 euros taking into account the monetary erosion due to inflation.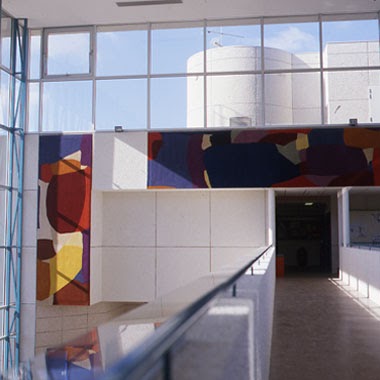 To go further …
Travelers' Map is loading...
If you see this after your page is loaded completely, leafletJS files are missing.